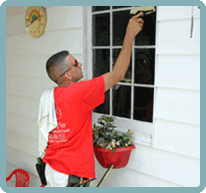 We are a young company with over 20 years experience with an office located in Northern NJ. Our company was started as a part-time venture but we decided to turn it into a full time, family run business when the President, Peter F Artusa retired after being a local Police Officer for 22 years.
We know you have dirty windows or you wouldn't be here. If you are getting ready for the holiday season or just looking for a spring clean up of your home or business, let A Sparkling View handle all your window cleaning needs for you. All County Window Cleaning can handle any size home or business from five stories and under, we do it all!
If you are looking for yearly service or weekly cleaning, we can handle your glass cleaning, glass scratch removal, and gutter cleaning. You can rely on All County Window Cleaning.  We have highly trained technicians to meet your needs.
Feel free to give us a call. We would welcome the opportunity to answer "ANY" question that you might have. All County Window Cleaning is the epitome of value, affordability and outstanding customer service.
All County Window Cleaning is the leader in its field in Northern NJ, Orange, Rockland, Duchess, Ulster and Sullivan Counties. We are your one-stop shop for window and glass cleaning, glass scratch removal and gutter cleaning.  We are here to help you!!