Window Cleaning:
Once our technicians arrive on site, the supervisor will do an initial walk around and verify the exact window count.  The supervisor will notify you before starting work if there are any changes.  The supervisor on site will negotiate windows that can be taken off to lessen the price if we were incorrect about the count over the phone.
If you need to cancel or reschedule your appointment we require notice by 12:00 PM the day prior to your appointment at the latest; otherwise a cancellation fee may be charged for $150 to make up for money and time lost.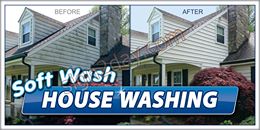 Pressure Washing:
When we pressure wash we do not was doors, window sills, shutters, soffit, or fascias.  When we pressure wash we do hit the gutters, but cannot guarantee them coming completely clean.  We have developed an alternative called gutter whitening to guarantee that they come completely clean.  Gutter whitening is a treatment applied by hand to whiten your gutters and can be priced on site at your request.
If you would like any other surfaces pressure washed while we are on site we would be happy to give you an estimate when we are there.  We also clean desks, walkways and patios.
Roof Treatment: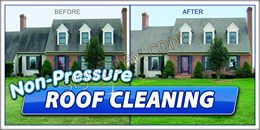 Roof treatment is an intense cleaning process that has more than just a cosmetic purpose;  it is also a form of pest control.  the black streaks on the roof are not just dirt; it is gloeocapsa magna, which is a type of roof algae.  Roof algae stains occur on asphalt shingle roofs and are caused because of the bacteria feeding off of the limestone in the shingles.  The roof algae start as dots, then take on a cone shape, and can eventually cover your entire roof.  If it is left untreated the growth holds moisture within shingles, causing premature aging and rotting.  All of that can lead to leaks and even needing a whole new roof which costs thousands of dollars.  Other forms of algae that you will see on your roof are Lichen and moss.  If you peel the lichen and moss off the roof it will scar the roof.  Once we treat your roof it will kill the Lichen and moss immediately.  However it may take month for it to fall off.
The Day of your treatment we send highly trained technicians to your home.  The technician is on a ladder gently spraying our treatment into your roof, which is then absorbed by the moss/lichen/mold.  These pests will turn bright white, which means they are dead.  Some of the moss may fall off into your gutters immediately, others will take a little longer.  The technician will also rinse all surrounding plants around your home with fresh water during the treatment to ensure that if any treatment to ensure that if any solution drips it is diluted.