If the day after your cleaning you notice any drops or marks, just give us a call and we will be happy to return in 2 days time to re clean whatever you like free of charge!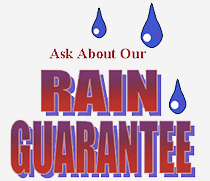 What if rain is predicted for the day of my service?
It is our policy to complete a scheduled job if it is raining. In the event of light precipitation we will continue as scheduled because rain does not affect the cleaning. In the event of heavy rain or showers, we will return within 1 to 2 days to complete the outside work. The interior of all windows are completed as scheduled so there is no disruption to your schedule.
Doesn't rain make my windows dirty?
Dirt makes your windows dirty not rain. The dust from landscapers, tree pollen, exhaust, and many other sources settles on your windows. Rain drops move the dirt around your windows and after the rain dries the dirt remains on the glass. This residue is now very visible because it's been spread over the window. Clean windows remain clean after the rain because once the water dries there is nothing left behind to obscure your view.
Can windows be cleaned in the winter?
Yes! Window cleaning is even more important during the winter season. Road salt turns into an air borne powder from the vehicles driving over it. This dust settles on your windows just as any other type of dust does. We follow proper safety guidelines to ensure your winter service will be completed safely and to your complete satisfaction.