Peter Artusa is the President of All County Window Cleaning, a company that specializes in commercial and residential window cleaning, power washing, roof cleaning, gutter cleaning and blinds sales which employs 25+ people and located in Northern NJ. He graduated from Valley Central High School in Montgomery NY. After graduating from Valley Central he went to work in the family business, a janitorial company located in Newburgh, NY.
In 1985 he attended the Orange County Sheriff's Office Police Academy and after graduation went to work for the Town of Montgomery Police Department. During 1987 and 1988 he was on loan to the Orange County District attorney's office as an undercover investigator where he had several successful investigations and was promoted to senior investigator. He then became a Police Officer with the Town of Warwick Police Department were in 1993 he was asked to form the town's first K9 unit. This unit was started and still runs successfully today. Artusa's first K9 was Paco, which he worked until 2001 and then he worked with K9 Basko until his retirement in 2008. After retirement from the Town of Warwick Police Department, he started his first business, A Sparkling View, which became a successful company and won, Small Business of The Year, along with several other awards and commendations from the Orange County Chamber of Commerce. Artusa went on to grow his company with small acquisitions.
In 2013 he purchased the largest residential window cleaning companies in the area, All County Window Cleaning, which covers 9 counties throughout NJ, NY and PA. He is constantly growing his company and has become a viable employer in Northern NJ, employing 25+ people within his organization. He was a graduate of Leadership Orange and also became a board member of that same organization. He volunteered with the Warwick Ambulance Corp and has served on several committees with several chambers of commerce that his company belongs to. He is currently a board member of HERo's In Deed.  He is married to Tammy Artusa and has 3 children and two grandchildren.
Tammy Artusa
Vice President
Tammy Artusa has been an insurance professional for over 27 years. She wears many hats as the office supervisor while providing excellent services to her clients. She is a strong believer in education, having obtained several insurance designations over the years. She was National Accredited Customer Service Representative in her Industry in 2002 and a Leadership Orange graduate in 2007.
Tammy has been married to her husband Peter Artusa, owner and president of All County Window Cleaning for almost 20 years and has an 18-year-old son named Tyler. She has two stepchildren, Daniela and Nicholas. She is also the Vice President of All County Window cleaning and helps run the accounting side of All County Window Cleaning on the weekends. She enjoys spending time with her family and friends.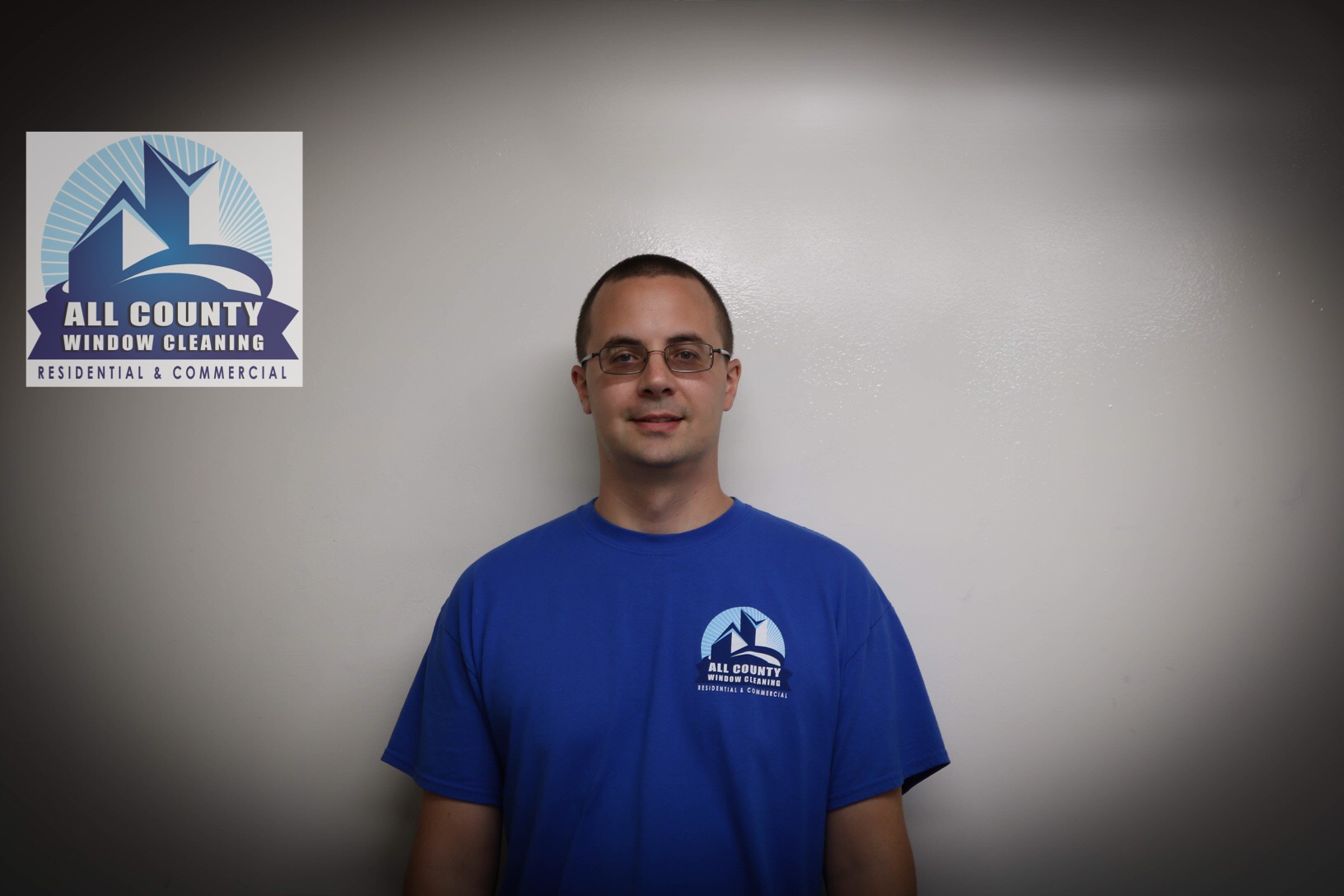 David Keppler
Operations Manager
David Keppler is the Operations Manager for ACWC. He graduated from Minisink Valley High School in 2001. He studied architecture at SUNY Orange and NJIT.
David started working at ACWC in 2010 as a residential and storefront window cleaner. He was quickly promoted to Supervisor the same year and was given the opportunity to do power washing and roof washing the following year. He has experience in performing every service that ACWC offers. In 2013, he was promoted to the Assistant Manager position, then the Operations Manager position in the same year.
David is responsible for the smooth and efficient day to day operations of the company. This includes ensuring that our customers receive the high level of service that's expected as well as resolving any problems that occur.
David's hobbies include, but are not limited to, doing Karate in the garage with the Office Manager.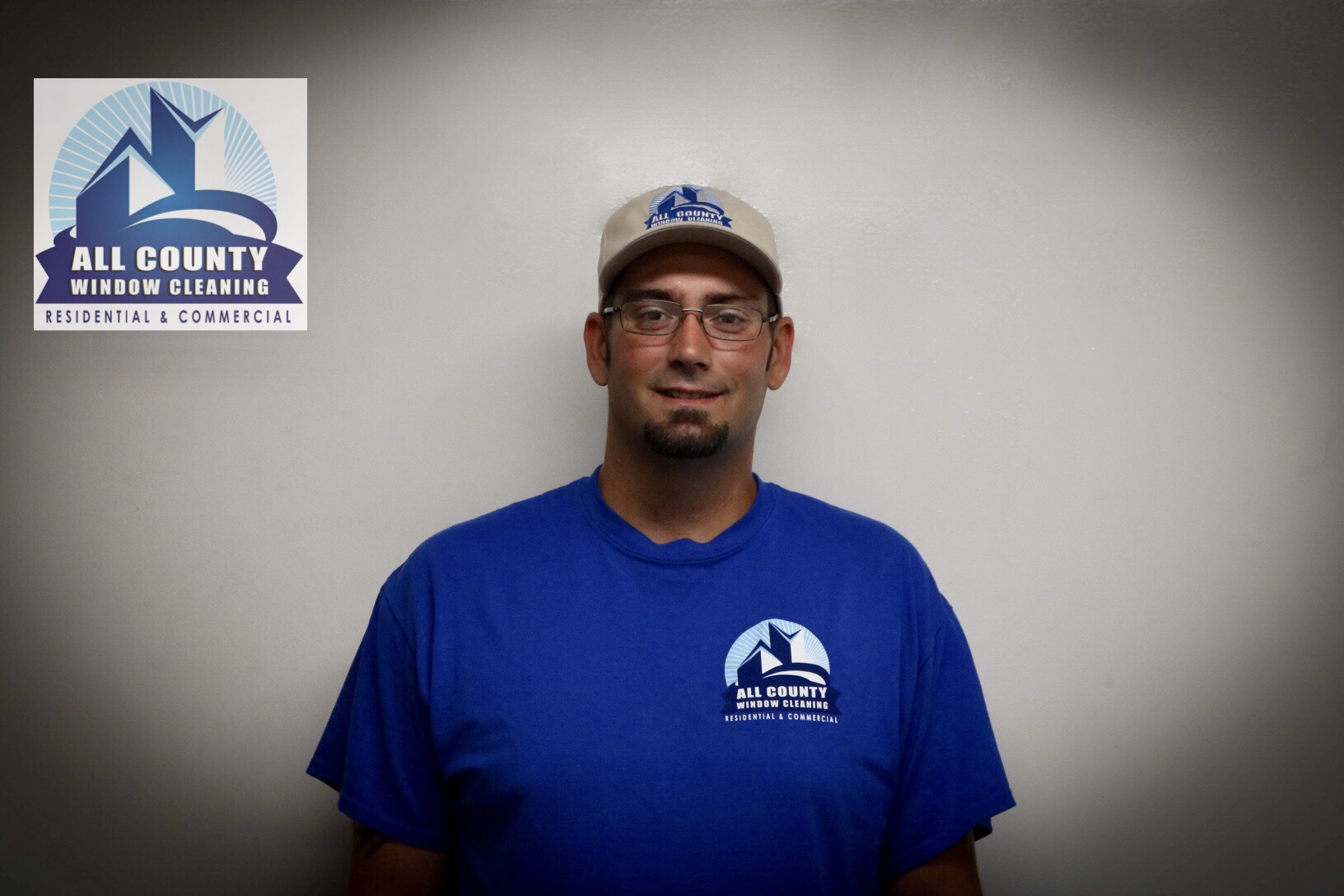 Ron Osterhoudt
Assistant Operations Manager
Ron Osterhoudt is the Assistant Operations manager for ACWC. He studied woodworking at Sussex County Technical School and Building Trades at Wallenpaupack Area High School.
He started working at ACWC in 2006 as a gutter cleaner. He was promoted to power washer and trained to clean windows the following year. He has experience performing all services that are provided by ACWC. In 2013 was promoted to the Assistant Operations Manager position. He is responsible for equipment maintenance, training new technicians and supervisors, and being the on-site manager in the field. As the on-site manager, he is responsible for resolving customer complaints and overseeing large jobs.
Ron enjoys quiet nights at home with his wife and three beautiful children. He loves to spend time coaching his son's basketball team and watching his daughters' cheerleading events.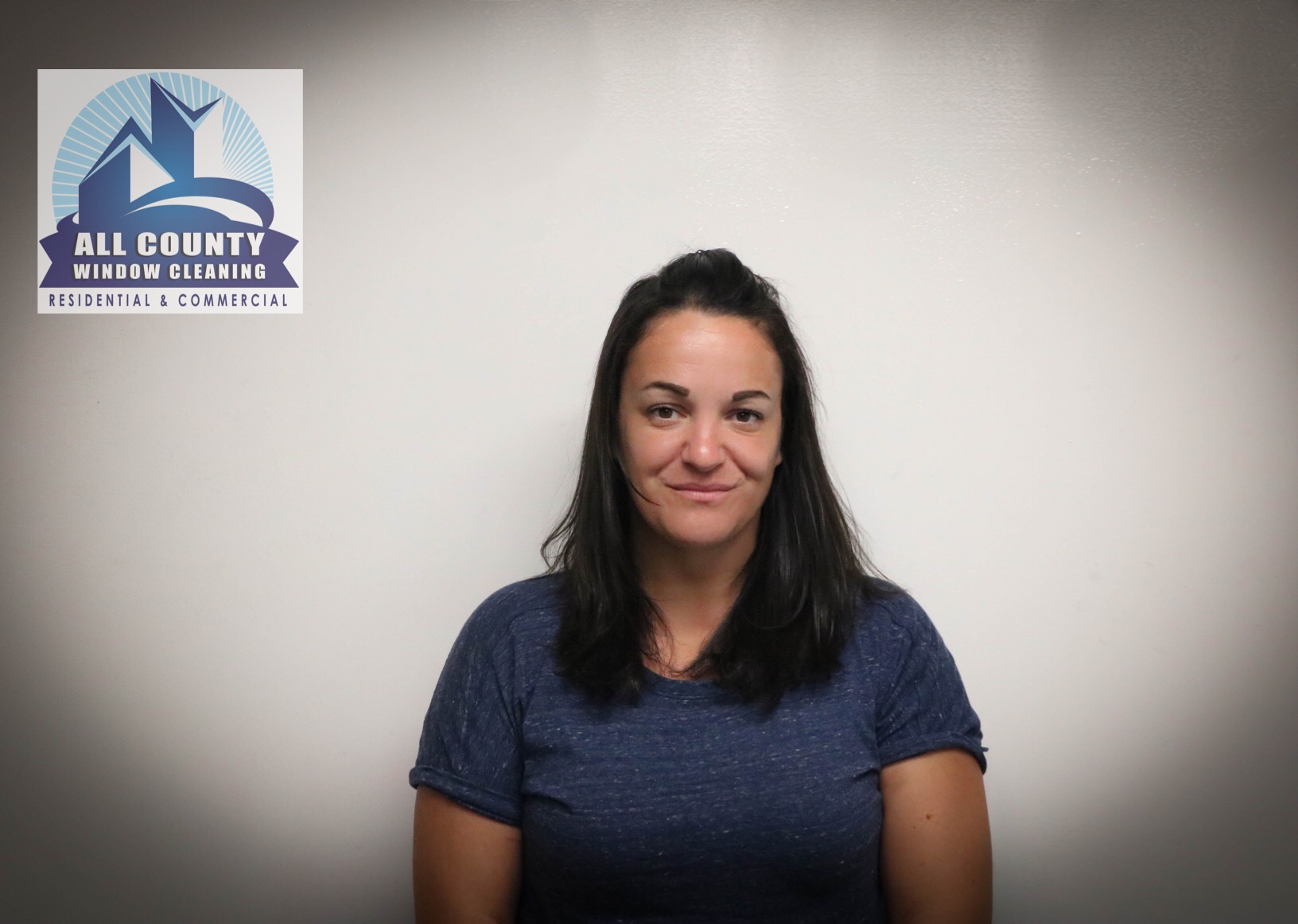 Liz Lambrinides
Office Manager
Liz Lambrinides is the Office Manager for All County Window Cleaning. She graduated from Vernon Township High School in 1997 (100 years ago). Liz started working at All County Window Cleaning in 2003 and did sales. Her job was to do phone estimates and schedule jobs for new customers and maintain the customer base for existing customers. Over the years, Liz has continued to do sales, scheduling, payroll and accounts receivable for the company while also being in charge of the sales department.
In her free time, she enjoys hiking, OCR's/mud runs, doing karate in the garage with the Operations Manager, traveling and being a mom and a Dad.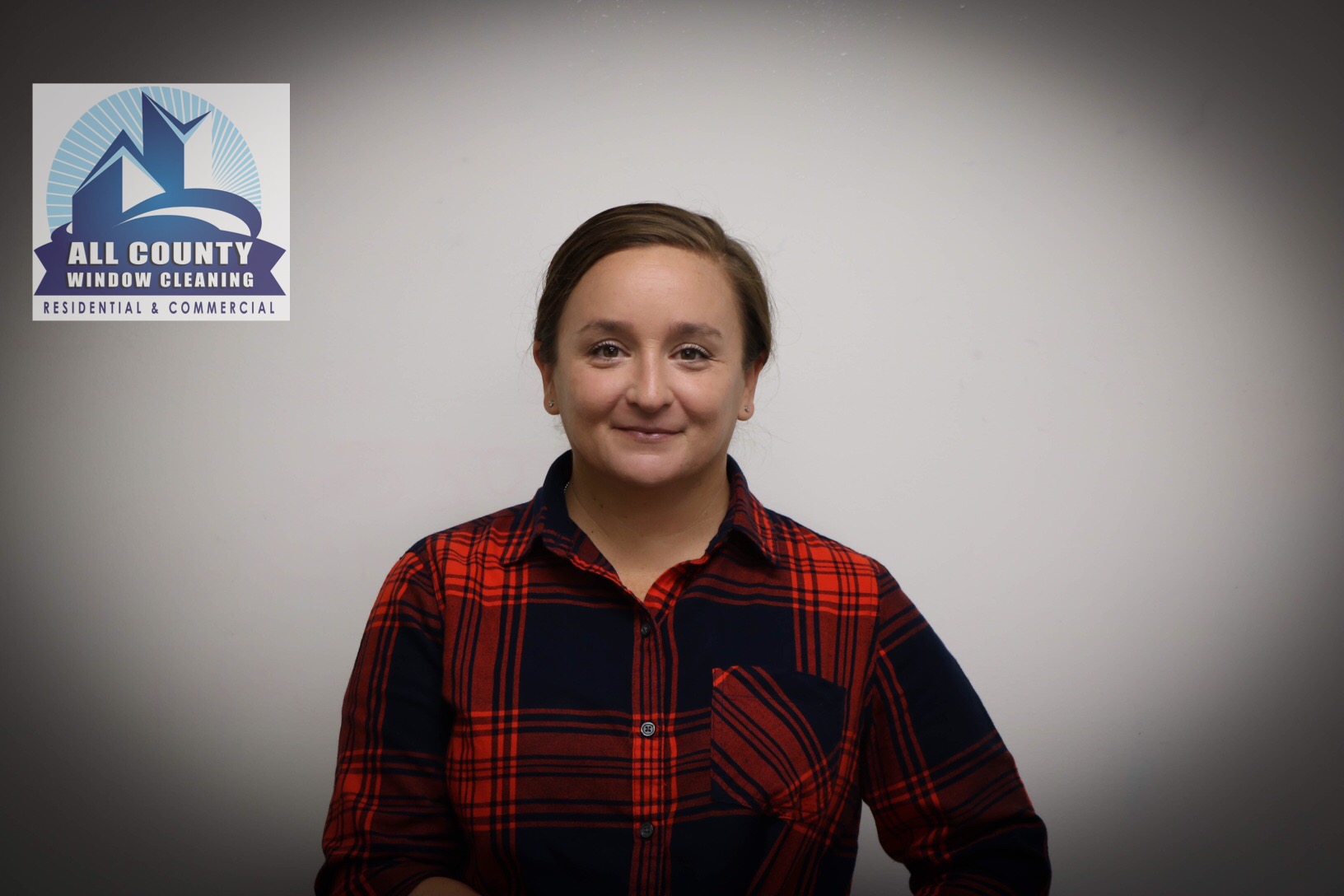 Sarah Modula
Customer Service Representative
Sarah Modula is an accomplished customer service representative with All County Window Cleaning and an award-winning singer and song writer. She enjoys what has to be one of the most fascinating, unique and uplifting professions she has ever had with All County Window Cleaning.
People from all over NJ, NY and PA commission Sarah to schedule their window cleaning, power washing, roof cleaning needs.
Sarah on her off time loves to create, original one-of-a-kind songs of love, growth, loss, birth and celebration to honor her life's most memorable and meaningful moments.
She has a Bachelor's degree in psychology from Harvard University but spends most of her free time caring for her children and her fur babies, which Sarah says is most rewarding in her life besides her job at All County Window Cleaning.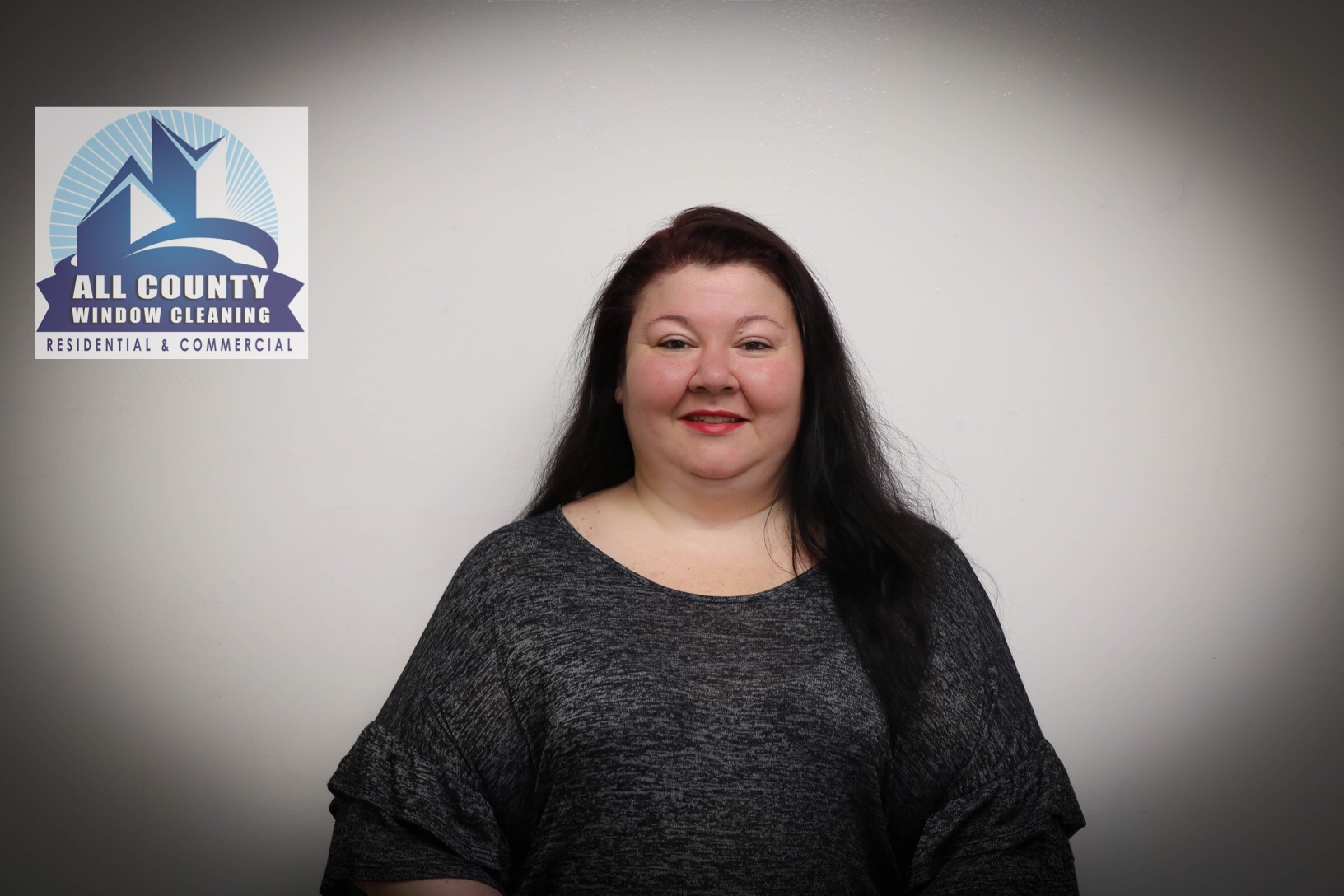 Shannon Berganza
Customer Service Representative
Shannon is a Customer Service Representative with All County Window Cleaning. She graduated a long time ago but she's not old by any means. She started her journey with All County Window Cleaning back in 2005 in our commercial department making cold calls. As time went on she mastered her superpowers in our residential and marketing departments. After surviving the rule of a tyrant, she happily transitioned into our new blissful environment where she continues to develop and maintain successful relationships. When there's something you need to be done she's the one to make it happen. Superpowers courtesy of her most important title of MOM.