Why Gutter Cleaning Now?
Consider gutter cleaning for your home now. With fall just around the corner, the leaves will soon be turning dazzling colors and putting on their annual display.
However, that beauty can mean trouble for your gutter system. Clogs from leaves and other debris can lead to severe damage to your home.
The following explains the importance of gutter cleaning and how often you should have it done.
How Clean Gutters Protect Your Home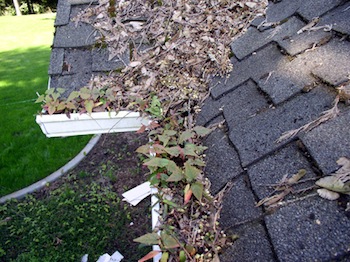 What's the Value of Gutter Cleaning?
As your gutters get clogged with leaves and other debris, the water that's supposed to drain out of the downspouts will get trapped. As the leaves start to decay in the water, mold will begin to grow. If left untreated, the mold can spread into your home where it can cause respiratory issues.
In addition to mold, clogged gutters can significantly impact the structure of the roof and foundation of your home. Standing water can gather on your rooftop, get under your shingles, and leak into your home. A clog in the downspout could also breakdown the gutter system altogether, requiring more repairs.
How Often Should You Schedule Gutter Cleaning?
It's recommended to have your gutters cleaned twice a year — once in late spring to flush out the debris that gathered over the winter, and again in the fall to remove any clogs that have gathered because of storms and falling leaves.
If you have a lot of trees close to your home, cleanings might need to be scheduled more frequently to keep up with the larger volume of leaves. Pine trees also often require more frequent cleanings because the evergreens shed needles all year long. In this case, booking a gutter cleaning every three months or so will help you keep up with possible clogs and spare your home from unnecessary damage.
Avoid mold, leaks, and water damage with the gutter cleaning help from the experts at All County Window Cleaning in Vernon, NJ. The company's experienced team will thoroughly remove every bit of debris from your gutters before flushing the downspouts to ensure every channel is clear. While removing clogs, the team can also clean the underside of your gutters to remove any unsightly stains. Click here to contact us or call (973) 827-8311 to speak with a representative today.