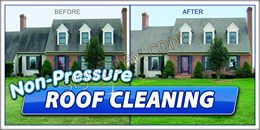 Roof treatment cleaning for your home is needed due to ultraviolet rays or heavy rainfall since your roofing system is exposed to extreme conditions on a regular basis.
Exposure to the elements can cause moisture and grime buildup, which could compromise the efficiency and structural integrity of the membrane.
To keep the system intact, routine roof treatment cleanings are necessary.
Why You Need Routine Roof Treatment Cleaning
From improved home comfort to financial savings, there are several reasons to invest in roof treatments to give the system a deep cleanse. Doing so will remove algae, mold, and additional organisms that may be eating away at shingles before they reach the substrate.
In many cases, a dirty roof could invalidate your homeowners' insurance policy.
By incorporating roof treatments into a preventative maintenance plan, you won't forfeit insurance coverage or have to pay out of pocket for repairs.
How to Determine the Frequency of Service
When deciding how frequently to invest in roof treatments, there are factors to consider.
If you live in an area with a lot of rain, more frequent cleanings could be necessary. This will prevent algae from forming on the waterlogged membrane.
Whether the roof needs repair is also something to keep in mind, as dirt, leaves, and twigs can lurk in broken shingles, gaps in seams, broken gutters, and other damaged roof components.
The debris traps moisture, which can also cause algae to form.
Walking on the roof can be dangerous, which is why you should leave roof treatment cleaning duty to the professionals at All County Window Cleaning, in Vernon Township, NJ.
Whether you need seasonal roof raking to prevent ice dams, regular gutter cleaning to avoid basement flooding or additional service, they will provide the necessary solutions to extend the lifespan and performance of the installation. To schedule, a service appointment in Sussex County, call (973) 827-8311 or in NY (845) 988-5535. Click here to contact us and  learn more about our approach to roof treatments.