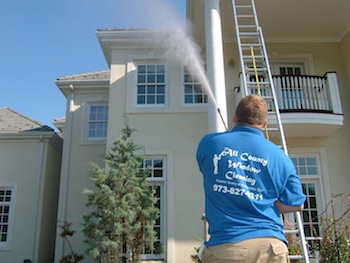 Why pressure washing your home is best in the Summer time.
Throughout the different seasons, the exterior of your home can become dirty and unappealing; rain storms, fallen leaves, snow, and heat rays can all take a toll. Pressure washing is the best way to ensure your home stays looking like new despite harsh elements.
In fact, according to All County Window Cleaning, a top residential and commercial window cleaning company in Vernon, NJ, the best time for pressure washing is during the summer. If you are considering pressuring washing your house, now is the time to act:
Pressure Washing Ideal Conditions
With the summer months comes a greater number of hours in daylight. Make use of that extra time by ticking off items on your to-do list. This should include pressure washing your home. Not only do you have extra time, but the warm weather is also ideal for any kind of work involving water. The job will refresh both you and your home, and you'll reveal cleaner, more attractive walls and windows afterward.
Longer Lasting Results for Pressure Washing
Pressure washing in the summer months means your hard work can last longer. In the winter, snow and ice threaten to dirty your exterior. In the spring, thunderstorms are your biggest enemy, while the autumn months are filled with fallen leaves and dying foliage. Summertime provides the most consistent conditions, allowing your window cleaning to really shine for a longer length of time.
Protect Your Home with Pressure Washing in NY and NJ
After the moist seasons of winter and spring, your home may be more susceptible to mold, mildew, and rot. Hiring a glass cleaning professional to pressure wash your exterior can help wash away any threats to the house. Not only does this revive the look of the building, but it also helps preserve it for longer.
Wash your home in the middle or end of summer to get the best results. If you need a professional, consider All County Window Cleaning. Our focus on customer service paired with our elite professionalism has helped us become one of the top cleaning companies in the NY/NJ area. Call us at (973) 827-8311 today or click here to contact us.